The eternal battle continues and the great debate rages on… ok, so maybe it's not a battle or a debate, but the question remains; is it really a good idea to do a calendar and do people actually buy them, and is it really worth it? Ok, so maybe that's three questions in a run-on sentence, but each is valid to be sure.
Calendars featuring scantily clad and uber-sexy women have been around since the mid 1940's. Back then, (and I'm referencing historical data, not personal memory), pin-up calendars were extremely popular with U.S. soldiers, and sneaking a quick look at Dad's 'girly' calendars was a son's dirty little secrets. Since then, we've seen Sports Illustrated, Playboy, Harley Davidson and a plethora of other 'Hot Girl' calendars dominate the online market from mid-September to January, year after year. The demand for hot women isn't slowing down, neither is the demand for hot women on calendars. So, answer this, do people actually buy them? Well that's a resounding YES!
And here's the thing, even a model with a modest following can sell calendars IF it's done right. Throwing 12 photos into a print-on-demand app and adding them to your free Wix site or even worse, your $30 a month Shopify store isn't enough – common sense will tell you that nobody can buy what they can't find. Producing a calendar that actually sells is 50% great photos and 99% marketing. And YES, if you do it right, it can definitely be worth it.
In all fairness, I suppose we should first define 'worth'. For a model that's only interested in the financial aspects of the term 'worth', making 100K a month on OnlyFans, ProjectModel or some other platform is pretty much going to dwarf any earnings you might make on a calendar so let's not pretend otherwise. But sometimes, 'worth' isn't just about money – it's about brand building and engagement and the model / fan relationship. Sure, you'll probably only clear about $3,000 for every 100 calendars you sell, but now you're in that fan's eyeline every day of the year. Get into his mind and his heart and the rest will follow.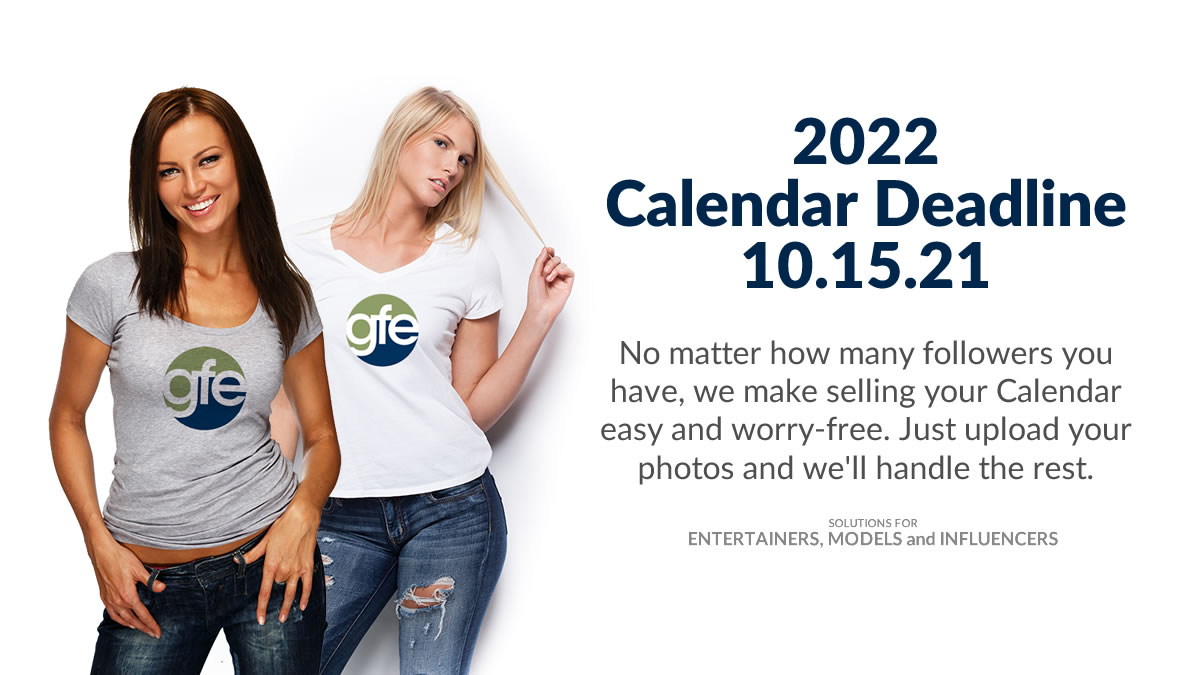 Now that we've determined that calendars are still popular, people buy them and yes, it's a good idea to sell one of your own, what's next?
Size Matters – So does paper quality.
5×7, 8.5×11, 12×12, 12×18? OMG there's too many choices. But based on our own data, the most popular calendar size and paper quality is the 12×12 with saddle stitched binding, printed on a 14pt card stock matte cover and 100# gloss pages, (in general terms, that is thick paper pages with a very thick cover – saddle stitching uses staples as opposed to spiral rings. The staples make for a much better centerfold). The 12×18 is just too big and the 5×7 and 8.5×11 are usually printed on thin paper and look cheap. You should also consider packaging and shipping costs when determining size – you would be shocked to see the cost differential between the 12×12 and the 12×18.
What About Photos – Theme or No Theme? New or Reused? Professional or Not? Nude or Not?
There is no perfect answer here. I've seen models who shoot a specific theme for each month with props and sets and professional makeup, etc., and I've seen models that send in 20 popular pics they've posted on Instagram – it's really six of one and half-dozen of the other. The most obvious difference is cost – if you're shooting professional photos with sets and props and makeup artists and all that jazz, you're going to spend some buckaroos – maybe even some heavy duty buckaroos – but that isn't always necessary.  The same can be said for nudity. I won't try to kid you, calendars with a little nudity historically sell a better for models with a smaller following, but, there is always one calendar and one model that breaks that pattern every year.
And then there is Marketing – or – How the hell do I sell this thing?
Earlier, I mentioned adding your calendar to your Wix or Shopify sites – this was meant to illustrate the idea that putting your calendar (or even your branded merch) on your own, solo website is like putting a sand crab in a cornfield. Again, nobody can buy what they can't find. By listing your calendar ONLY on your own site, you have to be sure you can drive traffic to it, then handle the orders, packaging, shipping and customer support – and trust me, there is much more customer support than you could imagine. From incorrect addresses, to autograph changes, to lost packages, damaged goods and the always popular 'I want to cancel my order' – AFTER it has already been shipped – are you prepared to handle all that while you're keeping up with the demands of your other endeavors?
Print-On-Demand sounds good, but it is NOT a viable solution
You only look as bad as your print on demand calendar. Thin paper and no quality oversight. That's just the beginning. They probably only offer an 8.5×11 calendar and leave it up to you to provide images in the correct aspect ratio and resolution -if you don't know what that means, you run the risk of stretched out and blurry images – assuming you do know what all that means, and you can handle it, look at the prices – you're most likely going to pay through the nose – which is exactly why we started FanGear.vip – to get around the gouging done by print-on-demand companies. Free lesson #27: The only people that make money with print-on-demand are the print-on-demand companies – trust me, we learned that lesson the hard way.
Find a company that can help you with the design, the printing, the marketing and especially the fulfillment and customer service. That might sound like a tall order, but hey, we know a guy!
---
GFE is an industry leader in collectible calendars, branded merchandise and other model-centric printed products. For more information, contact sales@gfemodelservices.com or visit GFEModelServices.com