You work hard. Really hard. You're feeding your OnlyFans, promoting your clip store, scheduling live shows and shooting an unbelievable amount of content just to keep up with the demand. It's exhausting!
In today's socialized content world, there's a race for fan engagement, and more importantly, fan dollars. It has become a necessity to be educated in self-marketing and everybody has gone back to school because now, it really is a business. And if you're any good at it, you already know what free content to post on Monday to set up your paid content on Tuesday and you have a good understanding of what your fan acquisition costs are.
Let's be honest, we're all fighting for the same eyeballs, and we all have the same basic ammunition. Logic would tell you that the winners are the performers who can be the most provocative or over-the-top. That's always the way it has been – but not anymore.
Sure, there's always going to be the 'hit and run' types. They check out a video, do their thing and move on – that part is never going to change. But there's a new breed of fans. Fans that want more – more than just the XxX. For today's fans, it's about the relationship between them and the performer. They want to know you, and they want you to be more than just a video fantasy.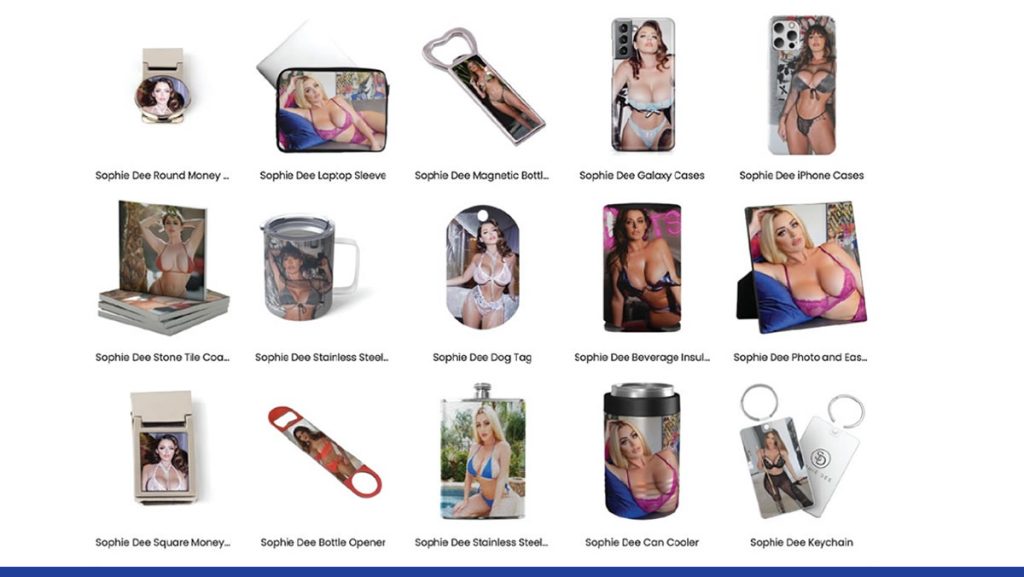 So, what about branded merch?
Well first, don't let anybody lead you to believe that you'll make a fortune selling it – you won't. But it can earn you a nice return per month and even more during the holidays.
When most people think about branded merchandise, they conjure up visions of VistaPrint or Printful or Printify or any of the other 438 print-on-demand sites out there. You know the ones that charge a monthly fee and kill you on wholesale costs and profits. The ones that have different vendors shipping your orders from different locations at different times – talk about exhausting.
For branded merch to make sense, you have to find a company that manufactures the products in-house and offers a fair wholesale cost – most importantly, find one with no monthly fees.
But why do branded merch at all?
There are valid reasons.
Branded merch adds value and credibility to your brand. (And don't shortchange yourself, you ARE a brand).
It gives your fans something they can have and hold in their everyday life. It makes you more real to them. They're going to love you on their coffee cup or phone case
You're going to appreciate the boost in earnings you get over the holidays.
YOU make a great gift. Your fans will share you by way of your merchandise and you will sell more merch or better yet, gain more members.
These are all good reasons to offer your fans something more – but there's one more …
FREE MONEY – if you don't have to pay a monthly fee, just do a little promoting and collect your earnings.
When it's all said and done, the right branded merch situation is simply finding the right company and putting together a group of hi resolution images. And you already have the images!
So, what products should you sell?
There's a ton of different products out there, and obviously, some are more popular than others. I can tell you from experience that phone cases, coffee cups, beverage holders, jewelry (like dog tags) and keychains are by far the best sellers. T-shirts can be good IF it's the right design.
When possible, you should try to offer your products with a multiple choice of designs or photos – giving your prospective buyers more than one option is always better – and the die-hard fan will probably buy more than one option. And remember this, the Merch company you sign on with knows their audience – if their deal includes design services – take it! They will lead you in the right direction – common sense says they don't make any money if you don't.
What about photos? What works best?
First and foremost, you want to send in Hi Resolution photos – your photographer can help you out there. IG pics are too small and will just get blurry when trying to use them on merch. You also want to use photos that place you in the foreground. Images that have you at a distance are just tricky and proper placement becomes an issue. Lastly, and this goes against everything you might think – stay away from nudity on branded merch. Insane thought, right? Not really. Sure, you'll sell some nude merch – but in the grand scheme of things, you'll shrink your audience, your payment processing choices and even the ability to promote those products on the majority of your social media accounts.
If you're with the right company, you could do nude projects by request only – for example, offer your fans a nude version of a coffee cup or phone case through your DMs – but clear it with your merch provider first. They give you the specifics on how to make that work.
But seriously, does size really matter?
Don't believe everything you read, size doesn't matter at all – at least when it comes to the size of your audience in relationship to branded merchandise. It doesn't matter whether you have 5000 followers or 5M, you can still benefit from the addition of branded merch to your portfolio. It only takes one follower to make a sale.
Really, size only matters in the attention you get from some merch companies. Odds are they will bend over backwards for the account with 5M followers because they'll make more sales from a bigger audience – but that's not always true. Successful branded merch providers know the value of accounts with a smaller audience, and they work just as hard. The know it's not about the size, it's about the engagement.
Branded merchandise should be the easiest passive income you'll ever make. If it's not, then you're with the wrong company. The perfect situation is different for everybody but if you can get into a deal that costs you nothing and only requires you to send in your photos – then what do you have to lose?